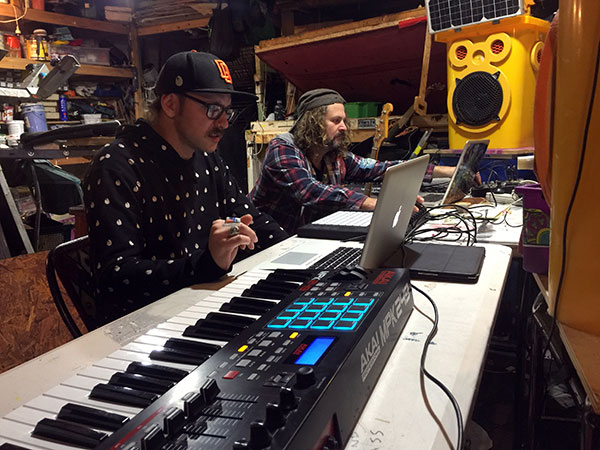 Arythmetek music workshop
Play music,create tracks, and jam and record using Abelton Live with D.J Mashy P and friends. Record Guitars, percussion, voice, raps, field recordings, mix drum machines, synths, bass lines through the Arythmetek mobile studio utilising Sunny Bins which are mobile solar powered sound systems familiar in Sydney's Inner West.
Arythmetek is a mobile o grid studio designed by Peters Strong ( D.J Mashy P. ).
It is also a music label www.arythmetek.bandcamp.com/. Mashy P regularly teaches the Abelton Live program at Tortuga Studios artists run space in St Peters, Sydney. Locally developed and produced. Sunny Bins provide the sound. Extra power is provided by the inverter which supplies extra power for the pop up recording studio.
Using the computer music program Abelton Live on a laptop, samples created and recorded at the sessions can be made into an electronic music mix which can the be a rhythm bed for further jamming and experimenting to occur.
Participants at the sessions are able to jam to a rhythm and be sampled into the mix, they can also have a go at arranging drum machine patterns, playing basslines and synth parts or play some guitar. Participants can try out their raps, poetry or percussion skills and learn about sampling and arranging modern electronic music. Music recorded at the sessions will be arranged into a nished collection of co-created work after the workshop and could be released on the Arythmetek bandcamp page.
Peter Strong a.k.a Dj Mashy P has been active in Sydney's underground and community active music universe for 2 decades, involved in groups mixing social and environmental consciousness with many-hand created events from Vibe Tribe, Ohms Not Bombs and Reclaim The Streets to Earthdream desert tours, Reclaim The Lane street carnivals and more. Producing electronic music and playing in bands Mashy P has developed the 'Mash Axe', a studio guitar which enables electronic music to be blended on the y with live percussion and instruments.
Contact Peter Strong on 0418 449 707 or [email protected] for enquiries about this workshop