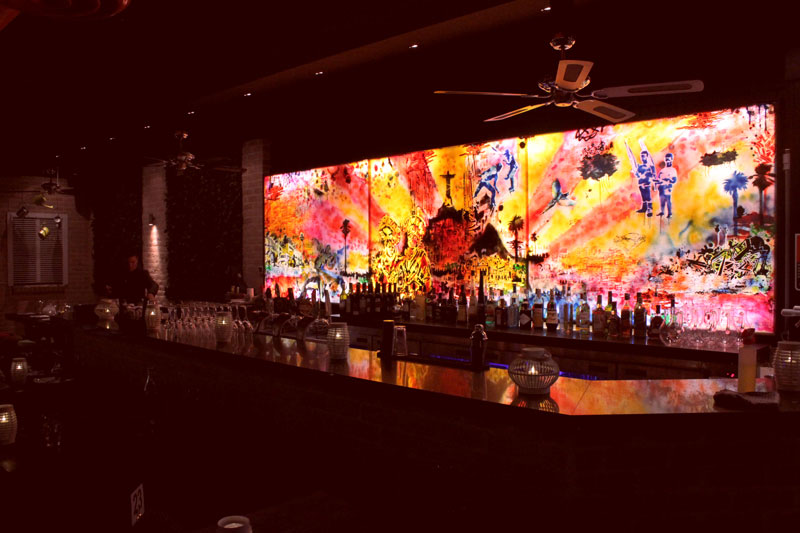 Events and installations
Vectorpunk woking with Sunny Bins and Tortuga Studios has an interesting array of event and installation projects in its portfolio…
The Chilled Hoist Forest
2011-Harvest festival-Parramatta.
I was commissioned in October 2011 to produce an idea that I proposed to the Harvest festival that occurred in Parramatta Park in November 2011.I was also commissioned to make the flags for the main arena at Harvest.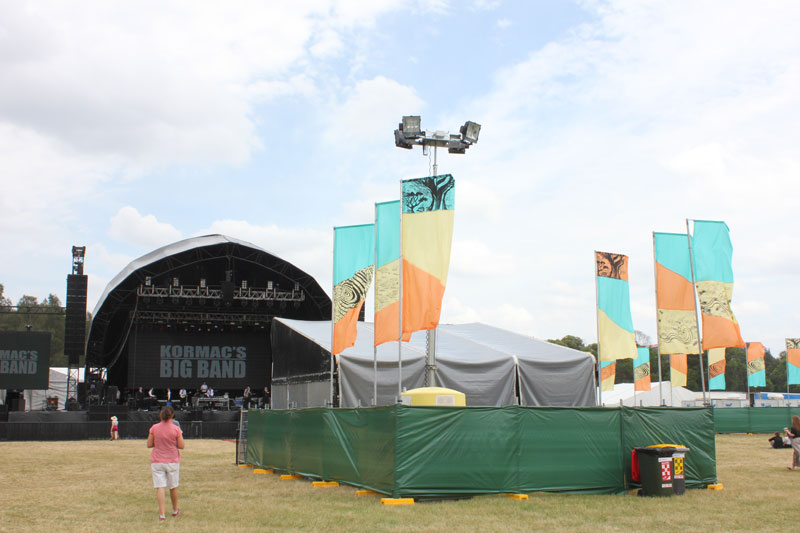 The Chills Hoist Forest is a Solar powered zone that includes several wheelie bin solar powered sound systems that receive their signal from a radio transmitter that relays the signal from interactive mix table where people can either D.J or jam with music apps on their phone, (Appjam) of plug in traditional instruments. This zone is designed to be set up at Festivals and community events.
Four modified Hills Hoists provide shade and hanging space for the Vectorpunk L.E.D driven solar light boxes adorned with screen printed and stencilled images. The zone can become a dance zone, workshop space and gallery. Peter for many years has developed a screen printing workshop where images are rendered via the art of paper cut stencils. The screen printing workshop can produce printed fabrics that hang from the Hills Hoist trees creating artistic foliage. The Chills Hoist Forest can also provide shade and a chilled educational vibe for children and adults with film showings and presentations. Vegetarian B.B.Q's add to the mobile suburban garden gone wild.
The four modified Hills Hoists are raised higher so that its hard to reach the hanging foliage of fabric and lights from the ground. Fabric can be arranged to create a large shaded area underneath the hoist array. Four of them are linked together to create a square footprint of about twelve to fourteen square metres. Their bases are squared off with a series of white picket fences. The whole CHF installation incorporates classic Australian iconic yard icons, the Hills Hoists, Wheelie Bin and Picket fences.
Special riser stands have been made for the The Wheelie bin sound systems to enable the sound to carry further when the space becomes busy with people.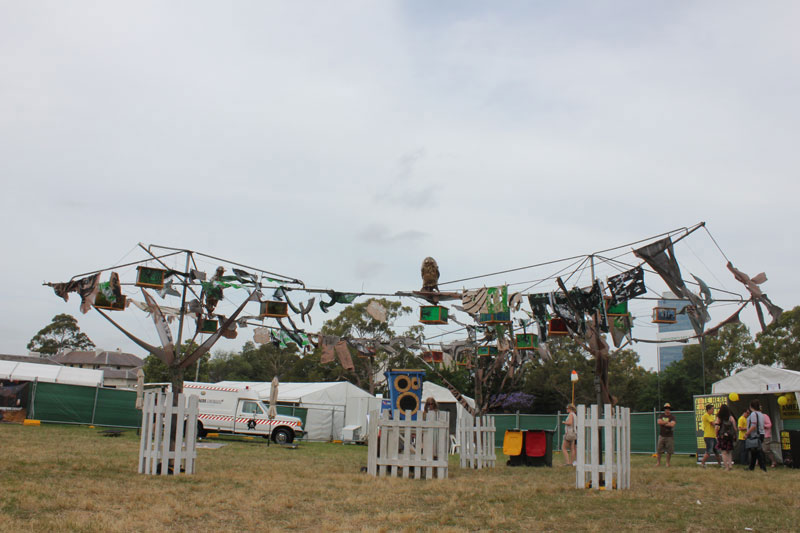 Cabana Tropicana
Since about 2012 a Tropical hut pop up venue called "The Cabana Tropicana" has graced events in Sydney. It features an array of Sunny Bins speakers and is in effect an 'off the grid' sound system zone with no need for 240v power. The audio signal is split from our mini mixer to go to our regular Sunny Bins configured left and right front of house on elevated platforms. It can accommodate D.J's as well as bands.
The Pacific island hut features a series of tropical inspired detailing as well a bar that could be used to serve tropical juices, food or display info on things sustainable.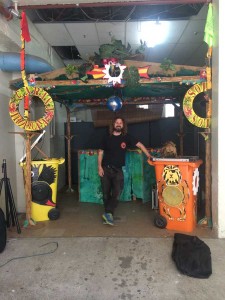 in Chippendale 2014
The Cabana Tropoicana was premiered at the Sydney Harbour Foreshore Authority's "Festival of the Voice" in the Rocks on Australia day 2013, the hut and bin sound system accommodated performers and singers in the street outside Sydney's MCA gallery. It returned in 2014 and was set up in more of a D.J booth style in the Rocks on Australia day.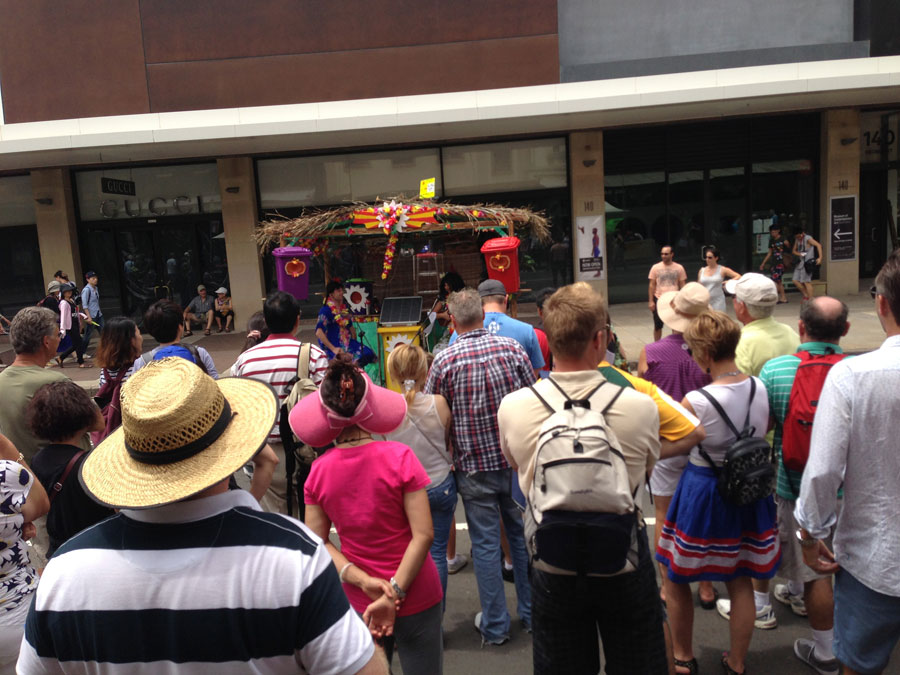 Later in 2014 the mobile venue was used at Tortuga Studios 'In The Night Garden' event where it was initially a kids space with appropriate entertainment and then became a pumping electro jazz swing den with a rammed 150 people dancefloor going off till the we hours.
Parramasala
In October 2013 Vectorpunk was commissioned to decorate two parade floats and co-ordinate music and mobile Sunny Bin sound systems for various sections of the Parramasala opening street parade.
With the help of Alien Proof Construction and Sunny Bins at Tortuga studios an impressive job was completed for the noisy and colourful multi-cultural celebration that included a troop of camels and a massive choreographed Bhangra dance down the street.
This job thrown at me last minute was a great boost for my Vectorpunk operation requiring a full spectrum of tasks to be completed in time for the parade from digital work and mouse pushing to hands on painting and pushing wheelie bin sound systems.
The trucks were made to look like Indian and Pakistani traveling trucks.
more at www.parramasala.com
meanwhile check out the slide show, the pictures are randomised and show aspects of the whole operation..click to enlarge and surf through…
Pueblo Del Sol
a.k.a the Village of the sun is an all inclusive family oriented festival zone which made it's debut at this Subsonic music festival 2013
Pueblo Del Sol is a predominantly off the grid space at the 2013 Subsonic Music Festival.The space used solar power to run sound and lights. It focused on being a space of kids and their parents/extended family to hang out.
There was  an ongoing mural project and various workshops including screen printing and hula hoops. The main workshop space is a 6 by 9 metre marquee was extensively decorated. In the evening there was kids movies as well as home made movies looking into the history of music and protest in Sydney and beyond.
Alongside the marquee there was the amazing and colourful solar shack called "The Cabana Tropicana", presented by Sunny Bins this will be a focus for the wirelessly linked wheelie bin sound systems and accompanying music/jams/workshops.
Also in the space was the giant Chills Hoist Lighting tree that was  adorned with flags made at the print workshops and solar powered lights.
The Chinco's Monster Dogs cafe was in the space serving up food and refreshments as well as the Ace Props decorated stage truck and Daniel Nimmo's electro cabaret truck.
more on Pueblo Del Sol