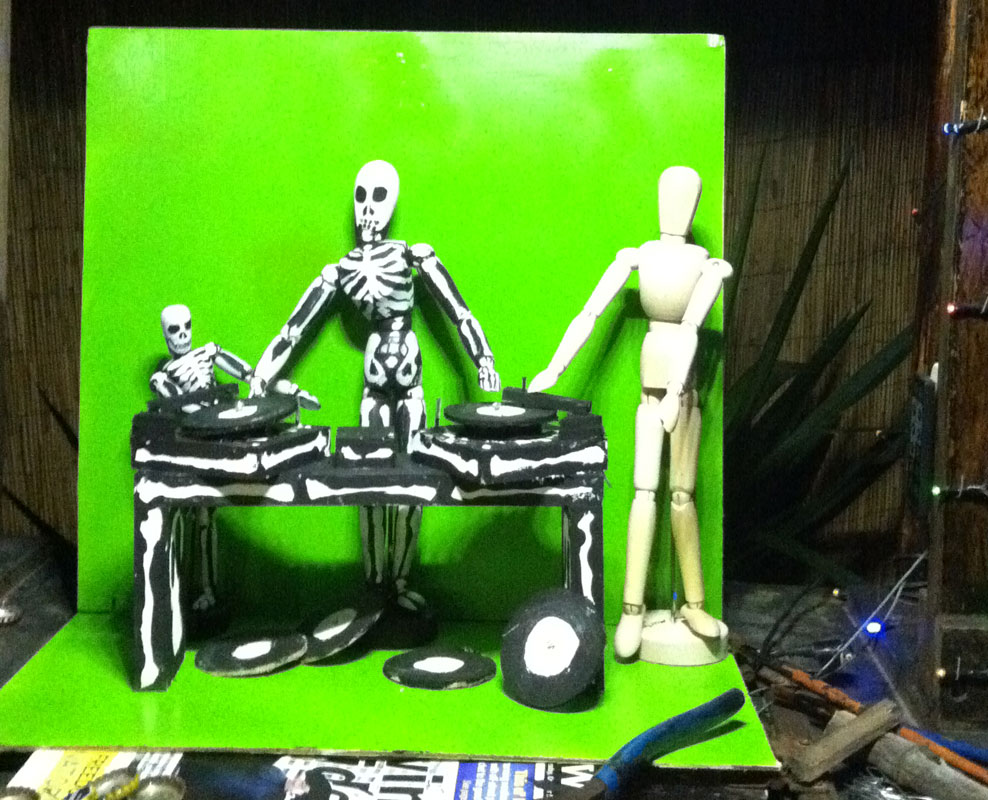 Film
Under the  Vectorpunk umbrella  I produce documentaries, animations and music videos works. I have an extensive collection on my youtube and Vimeochannels. recent clients include King Sound Studios, Medigym and Charlie McMahon…..
Do It Ourselves Culture
My biggest project is the Do It Ourselves Culture documetary due out this October long weekend, check out the birth of Doof preview or learn more about this mega project

.
King Sound Studio animation
This animation was produced for KSS, the Sydney based sound studios and has resulted in a creative alliance between KSS and Vectorpunk.
Space Fiesta video featuring stock motion stars, The Skelli Tones and The Sample Minds
Vectorpunk presents Space Fiesta, a fusion of stock motion animation, motion graphics, live footage and a studio remixed track of Tortugan house band,"The Sample Minds".
The music is influenced by a number audio traditions like U.K space rock and Punk namely the music of Hawkwind and the Damned and also live Acid Techno bringing back memories of an early 90's Anarcho Doof band that I was in called "Non Bossy Posse" and more recently electronic Cumbia brought to my attention during my involvement with global beats crew, "Uber Lingua"
This video is also a big up to protests and D.I.O ( Do It Ourselves) street actions around the world but particularly the inspiring "March in March" protests recently held against the right wing conservative Abbott government in Australia.
"The Skelli-Tones" are characters made in the spirit of The Day of the Dead, ( Dia de los Muertos ), they are my stock motion band who cover tracks of the Sample Minds. Some of you may have seen the mini stages and painted small artist mannequin characters at Tortuga studios during the recent Marrickville open studio trail, hundreds of shots were taken and then mixed to the "Space Fiesta" track and footage from several Sample Minds live show plus film from Newtown's colourful Reclaim the Lanes events.
The Pirates of Flicker
This is part three of a three part series now edited into one film exploring the program After FX and the idea of pirates having film projectors instead of canons. Here the pirates do battle with another fleet,the two sides project images on the sails of each others ships to freak them out.This is a mock ad for the Sydney Film festival and was part of an assignment at Enmore TAFE'S interactive digital media course I completed in 2011.
Umpa da da
This is a music video, animation and illustration package I produced for Charlie McMahon and Gondwana.
Welcome to Bubstep
This is a Baile Funk and Dubstep inspired track featuring the vocal howls my 5 month old son Hamish Mungo. The video has some of my motion graphic and animation works and the tune is an original Mashy P track. Check out more of my videos on this channel.
The track is downloadable at www.soundcloud.com/mashy-p
The Buskers Buddy
This a a promotional video for a 12v buskers mixer that was produced for Sunny Bins, the Sydney based Wheelie Bin Sound Systems company.
Monster Cantina promotional video 
This Video promoted a sound system venue truck that was a lot of fun while it existed between 2010-2011
White Knuckle fever play in the Monster Cantina  A video shoot for a local Sydney band, a final project for by Digital Media course at Enmore TAFE
White Knuckle Ride , music ny White Knuckle Fever

Pro light and sounds
These were two videos I made for transmission on Wollongong T.V for a company called Pro Lighting and Sounds.
El Sonido Del Sol
This  was a music video I produced using stock motion animation featuring D.j Skull and the Skellingtons and footage from Sydney's last 'Reclaim the Lanes' and the 'Sunny Bins' Wheelie bin sound systems.I made sets and modified mini artists mannequins to create a skellington party complete with a turntablist D.J Skull on the decks made out of scraps of wood and using my screenprinting and L.E.D lights to create the mini movie set. The music is from my band "The Sample Minds"
Sunny bins promo vid
Promotional videos made for creative organisations in Sydney
When I'm not crunching graphics and making videos and enabling graphics to move around the page in videos I'm often in the great outdoors pushing around or hiring out or selling  Solar powered wheelie bin sound systems called 'Sunny Bins'.
This video is a montage of footage cut together with text and some animation sequences.
For the full info on these amazing sound systems go to our sunny bins website
Junk Jukebox
When Sydney's creative industry needs something made that's out of the ordinary they often get it made at Tortuga Studios in St Peters, Sydney. Alien Proof Construction are the backbone to the set design crew at the warehouse created the revolving stage featured in this video.
Vectorpunk also stabled at Tortuga Studios produced this video and rendered the animation. Thanks to other Tortugans, Stuart Macleod and Alex Holver for capturing the original footage.
Waverley and Randwick Councils, GPY&R Sydney teamed up with
Will O'Rourke and The Glue Society to commission the Junk Jukebox
made at Tortuga Studios.
It was made to encourage Sydneysiders visiting Coogee and Bondi beaches to dispose of their litter in public rubbish and recycling bins. Music was used as a behavioural change motivator in a campaign that encourages beachgoers to dispose of their garbage in bins.
When the Jukebox was tested at Tortuga studios, Tortugan musicians stepped forward and created a spontaneous memorable jam as The Revolving minds. featured in the jam is SId Sidlow on guitar and sitar effects, Mashy P on Animoog ipad app and Reuben Alexander on drums.
listen to the whole jam at….

yoytube