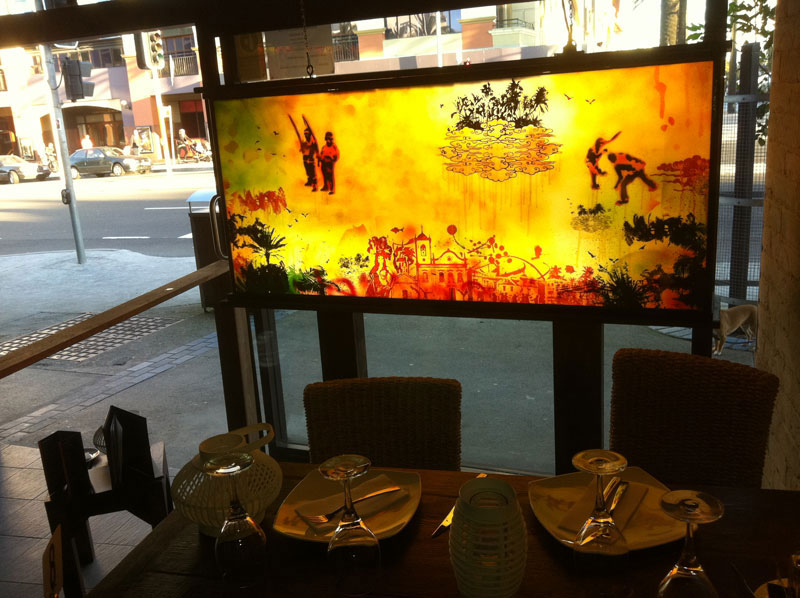 Interior Design
This section of this site looks at my venue, office and home makeovers, I do large interior light box's and artworks on walls or on canvas and work with various themes and other designers to carry out small and large space transformations.
As well as doing interior design I also do exterior murals and light box works. My interior design is driven by the type of work I do in the streets and the way art is laid out in the street.  Also the streets behind Tortuga get a lot of extra stencils that come from my  commissioned projects.
A large part of Vectorpunk's activity is in the field of interior installations, I have really enjoyed working on some interesting themed interiors for bars, venues and restaurants over the last 7 years in Sydney.
For many years I have exhibited my art in the Wellco cafe on Glebe point rd. I have made light boxes and have just completed working on designs for some murals, new light boxes and street signs at the popular cafe.  I started making hand made screen printed lantern light boxes in 2007 and then got may first big makeover contract at Newtown's Zanzibar Hotel, I then made over the Giraffe Wrap bar in Newtown. The big light box mural at Zanzibar fished in another major job for Rodizio Restaurants in Cronulla and Liechhardt, here i got to mix my urban design aethetic with light boxes, and stencil art to a Latin theme.
Check out these interior projects for details in each project from recent ones to back in 2007…
The Project Cafe, Bar and Grill 2015-16
During 2015-16 I worked on helping create some of the interior details at this new space in Mascot. The theme is industrial so I did lots of faux rust painting and signage and made pipe shelving in the kitchen and bar.
More pictures from the Project installation here
Rush hot dogs and burgers 2014
Vectorpunk in July 2014 worked on interior and exterior design for a cafe called Rush on the corner of Reservoir and Elizabeth streets, Surry Hills in Sydney. I have been doing a makeover of the place using old wood to make rustic signs and a menu board and a stencil style branding throughout the inside and outside of the premises. The upgrade is complete for now including a Rush logo design, giant stencil characters and a large indoor light box.
More pictures of the Rush and How about Juice makeover
Well Connected, Glebe Point rd, Glebe 2010-2014
I have been exhibiting art and doing interior detailing at Well Connected cafe 35 Glebe Point Rd, Glebe for about 6 years. In May 2014 I was commissioned to create a new feel for the cafe which had decided to do a re-brand. I made artists impressions and then created artworks with a rustic, street art flavor. I made a light box and hanging street sign using old fence posts and a part of a demolished wooden house. I also designed and  produced a mural that covered a large wall upstairs, a series of artists impressions were emailed to Wellco until the final design emerged, I used this emailing impressions process also for a large light box that I fitted upstairs. I supplied some new surreal art from my recent Props to the Props show. Check out the sign out the front for my 3d lettering rustic sign look.
More pictures of the Well Connected,Glebe make over here
Modus project mural, Cronulla-2011
Late in 2011 I completed two stencil murals in the Modus Projects office in Cronulla bombing a large dividing glass partition with an array of oceanic and urban images and creating an African savannah scene complete with menacing dangerous animals in the meeting space.
Rodizio Brazilian Restaurant, Cronulla and Liechhardt, 2011-2013
This is my largest interior project. I was first asked to produce a large back of the bar back lit mural. The Client had seen my Zanzibar work and wanted something of a similar style but incorporating urban Latin and graffiti/street art. The mural light box is about 6m by 1.5m, I built and designed the wooden surround and installed the massive light box at the two venues with the help of a carpenter and electrician. I also produced a window menu light box work and a mural on the front of the building in Cronulla. My murals mix large screen prints actually printed on the wall with stencils and free hand painting to create detailed and impressive works that are made to withstand the elements. Having completed the Cronulla one I then did the Liechhardt one. The Cronulla Rodizio is no longer open.
At the Liechhardt Rodizio I did some stencil mural work and had the fun task of making large famous people stencils in two colours for sections of corrugated iron in the restaurant and also the guys and girls toilets.
Check out the range of work for this Restaurant in the slideshow or better still visit the space under new management now at the entrance to the Italian Forum, 20/23 Norton Street , Leichhardt in Sydney…
More pictures of my work at Rodizio here
Giraffe Wrap bar-King St, Newtown-2009
I Here back in 2009 I produced a large ceiling light box and several smaller lanterns in a jungle animal style utilising the colours of the company's logo. The large ceiling box is still there, the cafe is now called the "Cheeky Czech".
Different Drummer-Glebe-2009
I produced a large stencil mural utilising the bars colour themes. The Work is about 2m tall by 9m and stretches from inside the bar to the small garden. As in most of my jobs, I started with an artists impression before turning it into reality. The elements of the design are made into large screens or hand cut stencils and the job carried out.
Zanzibar in Newtown-2008
I did a total refit of the downstairs bar, producing a large back lit acetate mural that spans a distance of 1.5m by 8m behind the bar. I also made a series of matching lanterns that hang over the bar. They asked for layered an urban style which was in line with the work I have been producing.
St Jeromes, Melbourne 2007
When I first started making light boxe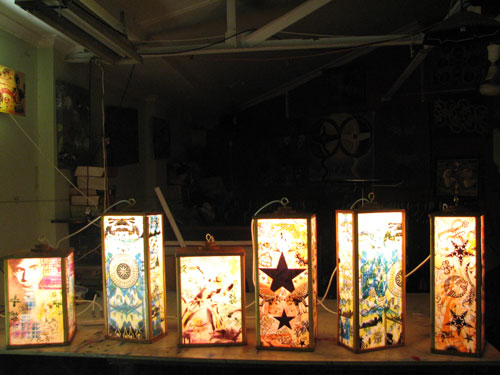 s, I produced a series of lanterns for the St Jerome's venue in Melbourne, a space that I was familiar with as I used to D.J there in the mid naughties with global bass crew, Uber Lingua.