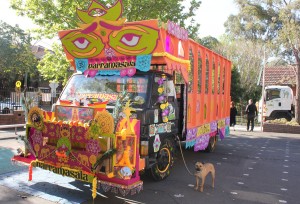 Parramasala festival
In October 2013 and then again in 2014 Vectorpunk was involved with the creative and audio aspects of the street parade that opens the festival.
The commission was  to decorate two parade floats and co-ordinate music and mobile Sunny Bin sound systems for various sections of the Parramasala opening street parade.
With the help of Alien Proof Construction and Sunny Bins at Tortuga studios an impressive job was completed for the noisy and colourful multi-cultural celebration that included a troop of camels and a massive choreographed Bhangra dance down the street.
This job thrown at me last minute was a great boost for my Vectorpunk operation requiring a full spectrum of tasks to be completed in time for the parade from digital work and mouse pushing to hands on painting and pushing wheelie bin sound systems.
The trucks were made to look like Indian and Pakistani traveling trucks.
more at www.parramasala.com