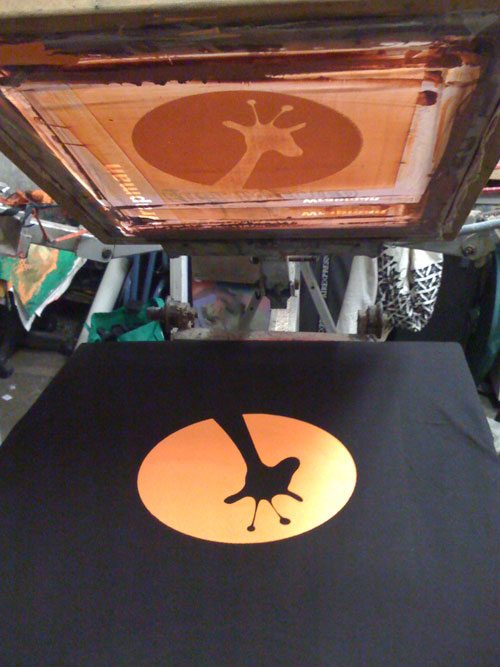 Screen printing
Screen printing is an ancient tradition first appearing in China during the Song Dynasty (960–1279 AD), it then grew and developed and is still a great way to get an image on fabric. In this age of digital printing sometimes its good to do things the old way. Vectorpunk are keeping that tradition going, real ink, real pigment and texture.
Get your own art ideas, team, business or band logo's and designs printed on shirts at a good price in Sydney's Inner West and beyond. Vectorpunk are based in St Peters in Sydney at the Tortuga studios at 31 Princess Hwy St Peters right opposite the bp at Sydney Park. We supply a quick turnaround and no job is too small.
SCREENS Preparing the Photo Emulsion A4 and A3 sized images onto silk screens is $60 each, 3 screens for $150. ( plus GST )
ARTWORK is $50 an hour. This involves digitizing the design, colour separations, sizing and preparing the art on acetates for making into screens, most simple jobs wont take much more than one hour. Additional design can also be done
PRINTING We use water based inks, up to 4 colours can be printed easily on shirts made with light coloured fabric and on black shirts it's advisable to limit colours printed to two or three. These prices are pre GST.
Shirts No.                Under 10      between 10-50   between 50-100  over 100
Printing a shirt            $3.80                 $3.30                   $2.80             $2.50
Additional colours       $2.80                 $2.60                   $2.40             $1.80
You can get us to print on shirts you supply or use our favorite local supplier ( Ramo Clothing http://www.ramo.com.au/ 02-9558831 ) You can browse their website, order garments and pay for them online and I will pick them up for free and then print them with your artwork, logo or design.
Check out some recent Vectorpunk Printing…
Let me know if your interested in getting some screen printing happening…