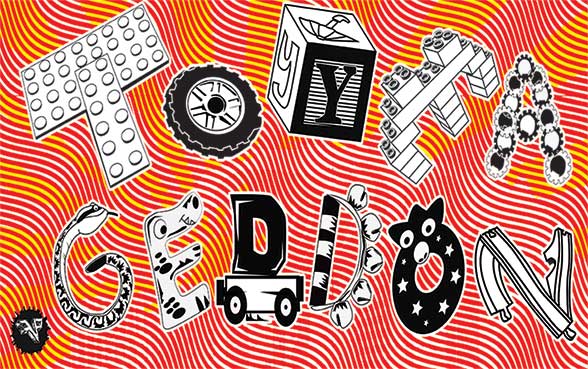 Toymageddon
Toymageddon was an art show by Peter Strong a.k.a Vectorpunk at Tortuga Studios on 29th November 2019 on the Gadigal land of the Eora Nation.
The evolution of Toymageddon
The idea of Toymageddon came to me mid-2018 when I was tidying up our house, the stomping ground of our two very active hard-playing kids Hamish and Eamon.
Whilst attempting to order the chaos of our abode I noticed the random broken and discarded toys created interesting compositions and scenarios that started to spark ideas.
Upon treading on a sharp piece of Lego the reverie was broken, as I lay on the ground injured, around the messy room dinosaurs, beany boos, and superheroes stared at me seemingly mocking my predicament.
In an attempt to address the ongoing Toymageddon of the kid's room and the wider house, I started collecting boxes of broken toys and discarded Woolworth giveaways and putting them in our shed in the backyard. I had found a load of canvas stretchers in the street the week before so I had an idea and started gluing all the damaged toys, bits of puzzle, and kinder egg shrapnel onto the frames, this gave me ideas for what the pictures in the frame might look like and I started the long journey towards this Toymageddon art show.
I then had the idea of making trophies, referencing trophy hunters disturbing animal head trophies but more a symbol of preventing the stuff from going to a landfill. It's a drop in the ocean of the massive problem of our waste stream and lack of recycling but a symbolic gesture at least.
We are a long way from halting the fossil fuel, military, plastic, landfill dystopia we exist in but the technology and knowledge are there, we just have to majorly kick start it. We can start cleaning up our act with small things in our life but we really need to rise up in revolution and overthrow the corrupt 1% with their unworkable paradigm of inequality, but that's another story, a lot of my art over the years is dedicated to people power revolution but this output of work delves a little more into surrealism albeit a little agit-surreal.
Toymageddon was also an attempt to rekindle my interest in painting, a meditative craft that takes you away from a computer screen and social media short attention span, painting is something that has fallen by the wayside for me in recent decades my creative energy surfed through activism, music making, screen-printing, stencil art, illustration and design.
As the idea mutated over a year the show was planned and postponed and postponed again, the final date chosen. With the help of the Tortuga gallery team we invited a few guests to be part of the show who have also been inspired by toys namely Rudy Ardianto, KRISPE, BUNKWAA and Ieva Jarvis.
The final date chosen for Toymageddon was a date that the amazing Toy Death band could play. This band has been performing for 24 years in Sydney playing circuit-bent kids noise toys.
The opening was a big night at Tortuga Studios. Big shout out to other contributors Toymakers John D-C and Calen Starling who I met at the 'This Is Not A Toy Scene' show at Mothership studios earlier in November 2019 who also joined the Toymageddon train. They represent a growing underground punk toy-making scene in Australia.
Toymaggedon one-off artworks, edition prints, and more will be available soon to buy on Vectorpunks online store.
Other Toymageddon artists…
Rudy Ardianto, John D-C, Ieva Jarvis, KRISP, BUNKWAA
Thanks to Lulu, H, Ran and Tortuga Studios, Datascene for the animals, Giles Morgan for the LED piece that was populated by Toymageddon things.