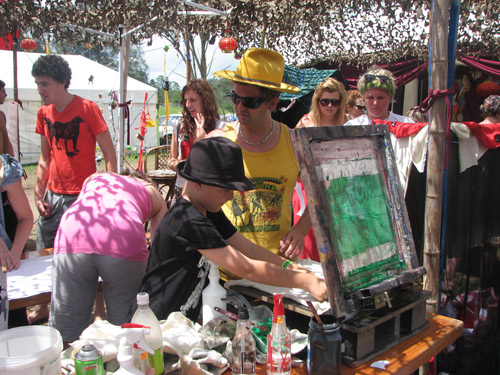 Workshops
As a screen printer and artist I have enacted many workshops from local community kids workshops at Tortuga Studios sponsored by Marrickville and Fairfield councils to sessions in far western NSW and South Australia.
The workshops have mostly been in Screen printing but more recently a Stencil Art Workshop has been developed for students of various ages, the workshop can be adjusted for younger and older participants
Bio of Vectorpunk workshops
Cre-artivity festival, Arncliffe,  (Rockdale council ) kids screen printing workshops August 2012/13/14
Peats Ridge Festival 2010/2011
Ashfield Community kids screen printing workshops August 2010
'Byron Bay Council stencil art workshops ,Mullumbimby, Brunswick heads, Jan 2010
'Art Jam' at Tortuga Studios Sept, St Peters, Sydney Sept 2009
Waterloo library City of Sydney Council sessions,Waterloo,Sydney July 2009
Youth area at the 'Peat's Ridge festival',Sydney 2008-9,2009-10
Fairfield Youth weekly workshops, Mekanarky, Turella,Sydney 2006
Condobolin, far western N.S.W 2006
'Scream on the Green' festival, Tempe,Sydney 2004
Earthdream workshops, South Australian desert and NT 1999-2000
UNSW weekend workshops, Kensington, Sydney 1991-93
I have put on many screen print workshops for the last 16 years, the workshop sessions cater for participants ages 5 to 50+ . From mobile workshops in the South Australian desert to an indigenous youth centre in Condobolin and the Peats Ridge festival the popular sessions have seen many kids and and adults experiment with the medium producing paper cut stencils as well as photo emulsion screens and using Photoshop to transfer designs to the screen.
During the 2006 workshops held over several weeks at the then active Mekanarky studios in Turrella taught kids from Fairfield with the direction of the Fairfield Youth Services. They became familiar with the screenprinting process in great detail, some of the students have gone on to create their own business's.
During the Earthdream travels from 1999-2000 screen print workshops were held regularly with limited water,people often printing on the shirts off their backs. During this tour hundreds of people from all around the world made their way to some of Australia's most remote regions to voice their opposition to unsustainable and dangerous uranium mines that are damaging both humans and the environment. Many anti nuke designs were made on the journey as people organised protests against Australia's uranium mining industry.
More recently I have been involved in running workshops at Ashfield Community Centre and Waterloo Library. The latter was a City of Sydney Council initiative where a day was spent in the library teaching kids from ages 4-11 the basics of screen printing. The children particularly enjoyed cutting their own designs from paper using safety scissors and then printing their designs blending different colours into a rainbow effect on the specially designed Vectorpunk table printing unit.This portable unit designed by Peter allows one colour t-shirts and several colour paper prints to be printed.
The same workshop format was recently employed at Vectorpunk's home studio ;Tortuga studios the space in St Peters recently secured a grant from Marrickville council that made the popular workshops possible .
The Arythmetek music workshop
In July 2017, Sunny Bins launched their Arythmetek workshop at Vicars Mill in Marrickville. Sponsored by Inner West Council, the event occurred over two days, during which kids and adults were encouraged to join in on drums, guitars, keyboards and electronic sound equipment.
During these workshops jams are recorded, music tracks arranged and content made available to release as finished tracks.
Arythmetek actually goes back to the mid 90s when a sound system bus project back called 'The Freaky Tour' travelled from Sydney to Darwin putting on events. One of our workshops in Darwin attracted a guy called Kris Keogh now NT's most prolific electronic music artists.
The Arthmetek music workshop incorporates electronic and acoustic music jamming and creation through the Sunny Bins solar off grid mobile sound system. Abelton Live software is used to blend electronic dance grooves with live jamming.
Jamming is a great way to brew up ideas that then can be used in the construction of a dance track that incorporates live music. Arthmetek also offers one on one or small group tutorial sessions.
Contact Arythmetek on [email protected]